Due to the sustained low flows we have been experiencing here at Spring Lake, we are now entering our next phase of allowable dive number restrictions. The flow rates have been consistently below 80cfs for the past two weeks, and with no real rain chances for the foreseeable future, we will be implementing our 2nd restriction to divers allowed per day as prescribed in the Spring Lake Management Plan and the Habitat Conservation Plan.

This new restriction, due to sustained low flows below 80cfs, will limit the number of divers allowed per day beginning on Friday, September 1, 2023. The restriction criteria are as follows:

Volunteer divers allowed: 4 divers per day
Scuba Certification classes restricted to the Training Area: 12 students per day

The Lake Manager monitors daily, and if sustained turbidity levels occur, safety, or other issues arise from diving activities, a determination to cease or further reduce all diving activities will be assessed in collaboration with the Meadows Center Chief Science Officer and the SL Environmental Review Committee.

The restriction will be lifted once we have sustained return flows

for a period of no less than three weeks

above 80cfs.

For more information or if you have any questions, please contact the Spring Lake Management team at the following:

Mike Flores, Spring Lake Dive Coordinator at:
divecoordinator@txstate.edu
512-245-7541

Aaron Wallendorf, Lake Manager at:
aw33@txstate.edu
512-245-753

Rob Dussler, Director of Spring Lake Education at:
robdussler@txstate.edu
512-245-6151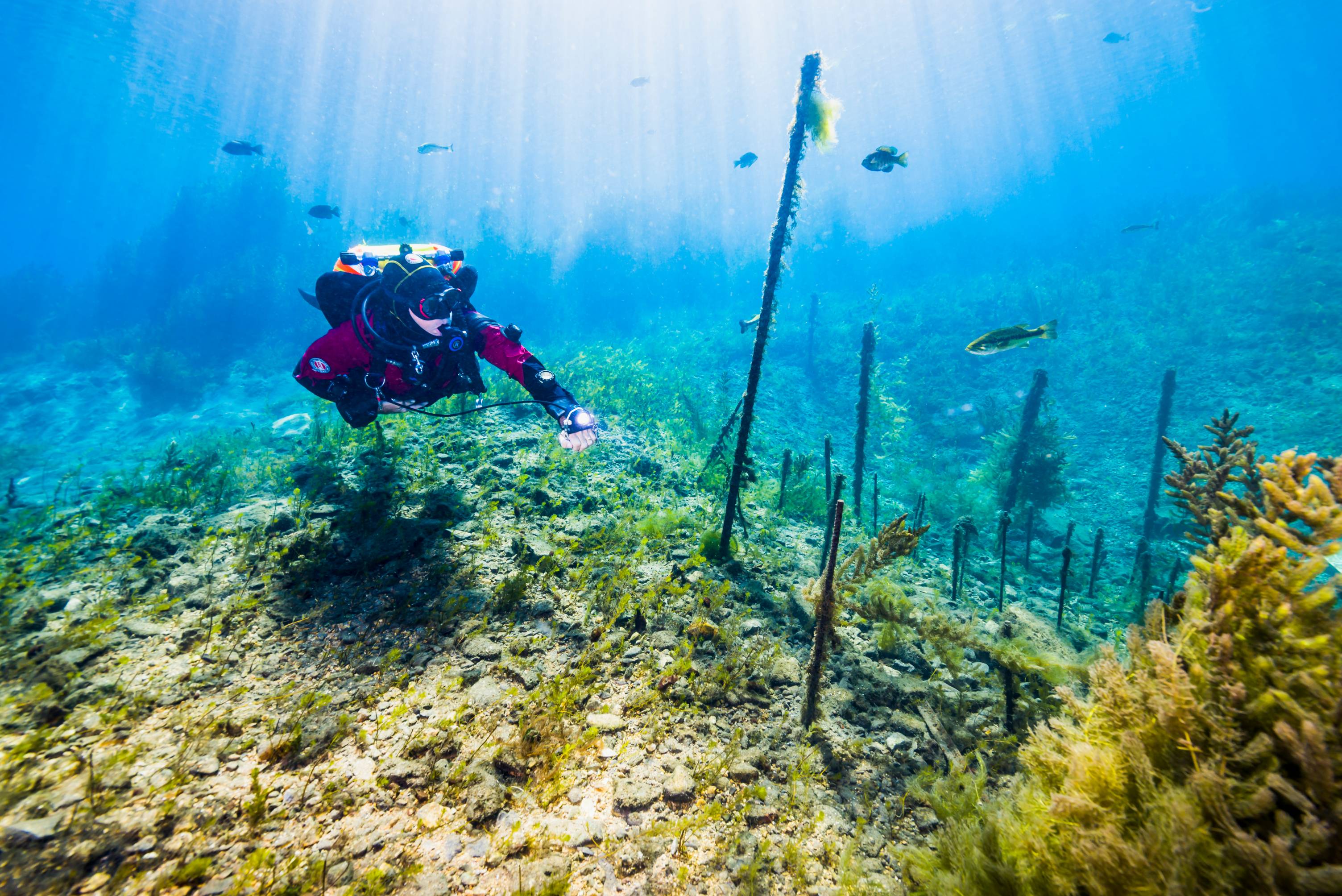 Spring Lake: Unique in the world.
At the headwaters of the San Marcos River, more than 200 artesian springs bubble up to form Spring Lake. Here human history stretches back more than 12,000 years to the last ice age and natural history even further. Spring Lake is a jewel for divers.
Spring Lake at The Meadows Center for Water and the Environment is home to:
crystal-clear waters that remain a constant 72 degrees year-round

one of the world's largest aquifer-driven spring systems

eight threatened and endangered species

a state antiquities landmark

the longest continuously inhabited site in North America

ongoing biological and archaeological research and many collaborative projects

Likely the densest population of turtles in the United States..and more
Our diving program partners with select scuba divers to protect and preserve Spring Lake's abundant natural, historical, and cultural resources. We train citizen scientist divers and, in return, they volunteer their time to one of the most unique habitat restoration projects in the country.
Dive Spring Lake
Learn more about our dive programs at Spring Lake.
Dive Reservation Requests
Schedule a volunteer or open water checkout dive at Spring Lake.
​Friendly reminder to all Spring Lake instructors and divers: We need your Help! Please keep in mind that the public restrooms at Spring Lake are also used by faculty, staff, and our general public visitors. While we know changing out of wetsuits can be a messy endeavor, we appreciate your best efforts to keep the facilities as tidy as possible for the next person. As always, we appreciate your support at Spring Lake.
Spring Lake Diving Policies and Procedures